Having arrived in Morzine at the end of the 2012 ski season with the intention of doing a little bit of skiing before starting a Summer Triathlon and Cycling holiday business, our plan has evolved and grown along with the summer business. Tri4theAlps has now hosted more than 400 guests over the past 4 summer seasons. We have often talked about managing a chalet in Winter and when some fellow triathletes Mike and Tania Atwell purchased Chalet Cecile in the summer of 2014 and offered us the roll of managing it, we jumped at the chance.
We have prepared ourselves well over the past 4 years to take on a winter chalet. During our 1st season in the Alps Amelia hosted and took Reach4theAlps chalet Allouette to number 1 on trip advisor, while I worked between 3 chalets in Les Gets as a driver/ski guide, one of the chalets being chalet Allouette. We then joined forces to host 18 bed Morzine Chalet Cairn Lodge with great success. With our summer business now better established the next step for us was pretty simple, however, finding the right chalet is not that simple, enter the Atwells and Chalet Cecile.
Mike and Tania are a fantastic couple and saw great potential in Chalet Cecile from the moment they were first shown it by local real estate guru Paul Watts from Morzine Immobillier. The Chalet was dated, needed plenty of TLC and some pretty major renovations, but Mike and Tania recognised the sensational location and saw the immense potential in the place. Mike and Tania love a challenge, both are excellent Ironman triathletes, with Tania having just qualified for the Ironman World Championships in Kona, Hawaii in October with an outstanding performance at Ironman Austria.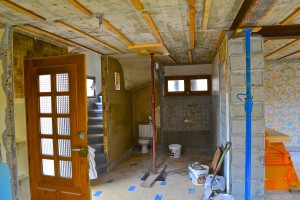 Working with local Builder Lance Ainsworth, Chalet Cecile is coming along well and set to be finished by early September, allowing Tania and Amelia time to put some finishing touches on the place before first guests arrive for new years week.
Located at 5 Sentier de la Salle, Chalet Cecile is just 2 minutes walk from local bar Rhodos and the Dixie Bar and perhaps more important facilities including the local chemist and 4 minutes from the Carrefour Super Market. It is also 30 metres away from the local ski bus stop. The convenience of Chalet Cecile is outstanding, Amelia and I can vouch for this, as we were lucky enough to spend last winter living in the chalet while the planning for the renovations were taking place!
All in all, we are very excited about the future of LivMor and Chalet Cecile, we can't wait to host our first guests and show how special Morzine and the Port du Soliel is all year round. The level of service we will provide will be second to none and we hope you will consider stay with us for your next ski holiday!
Cheers Joe